Well, folks, I am back with an article on a really unique place and that is Bali. It is an Indonesian island known for its forested volcanic mountains, iconic rice paddies, beaches and coral reefs. The island is home to religious sites such as cliffside Uluwatu Temple. The south houses, the city of Kuta which tends to welcomes you with lively bars,  and while Seminyak, Sanur and Nusa Dua are other popular resort towns which also tend to exaggerate the south part of the island. The island is also known for its yoga and meditation retreats. The Essence of Bali is filled in this article which will compel you to know more about Bali, well I will tell you about some of the best places to visit in Bali. Now folks, let's go on an intriguing journey of Bali and let us live the Essence of Bali completely.
Tanah Lot Temple
First up is, Tanah Lot is one of the most iconic temples in the whole of Bali. The temple is perched on top of a huge rock which is surrounded by the sea with waves constantly crashing on the base of a rock. Since being one of the most important sea temples, Tanah Lot pays homage to the guardian spirits of the sea. Tanah Lot Temple is one of the most important landmarks in Bali, which has often seen being famed for its one of a kind offshore setting and beautiful sunset backdrops. An ancient Hindu shrine is placed upon the outcrop which is constantly lashed by the upcoming waves but truly Tanah Lot temple is an iconic place in Bali. This is one of the places which has the essence of Bali.
Uluwatu Temple
Next up is, Uluwatu Temple which is also among Bali's most important sea temples, perched on a cliff edge in the southwestern Bukit peninsula and it also fills up the air with the essence of Bali. Here you can catch dramatic sunsets such as at Tanah Lot, Uluwatu also features an open amphitheatre close by, where sunset kecak fire dances can be enjoyed. The Pura Luhur Uluwatu is the best place to have the perfect view of the great Indian Ocean. Balinese architecture, traditionally-designed gateways, and ancient sculptures act as the cherry on a cake for the Uluwatu Temple's appeal.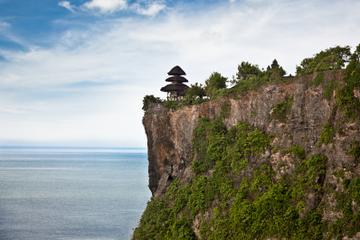 Besakih Temple
Next is again a temple which is regarded as the 'Mother Temple' of Bali. Perched at a height of 1000m on the slopes of Mount Agung. Besakih Temple is also the largest of all temples present in Bali. There are eighteen unique sanctuaries which are surrounding the three main temples dedicated to Shiva, Brahma and Vishnu. Besakih Temple is an artistic yet unique complex that comprises at least 86 temples which include the main Pura Penataran Agung (the Great Temple of State) and 18 others. Besakih also tends to offer scenic views of the rice paddies, hills, mountains, streams and much more. This is also another one of the places which have the essence of Bali.
Tegallalang Rice Terraces
This one is truly a first since we are now going to a place which houses most of the beautiful paddy fields which also makes up for some of the best scenic views for a picture and also it has the true essence of Bali. And the paddies with the best vantage point are just up north of the main Ubud centre, along the road of Tegallalang. Here, the roadside stalls and art shops offer some of the most beautiful artefacts you would have ever seen, as well as small restaurants which tend to offer some great views in the night. The high roadside location is cool and breezy and is also a well-known spot for tourists to stop and take photos. This place is a painter's paradise as it tends to offer some of the best backdrops which can come alive on your canvas and this place also has some amazing art galleries. This place acts as a sore-sight for all the nature-lovers.
Ubud Monkey Forest
Next up is a forest which is located on the edges of the Ubud main centre, and that is the Ubud Monkey Forest which is home to Bali's several grey long-tailed macaques. This forest is also known as the Sacred Monkey Forest of Padangtegal, the Ubud Monkey Forest is a great place for carrying out scientific research as well as it acts as a site of spiritual and cultural aspects with temples sanctified by the local villagers deep within its grounds. Besides watching the playful monkeys in their natural habitat, swinging through canopies, lazing along pathways or feeding on bananas, the site also offers cool walks along paved pathways through a leafy nutmeg forest. Beautiful ancient temples with guardian statues covered in moss also feature throughout the forest.
Ubud Art Market
Next place to visit is again in Ubud and that is the Ubud Art Market which is also locally referred as the Pasar Seni Ubud and it is located opposite to the Puri Saren Royal Ubud Palace which is open daily. This is a great place for shopping which will indeed make your wife, sister, mother or any other female family member or friend jump in joy as there are many beautiful hand-made things that can be bought here. Here you tend to see silk scarves, lightweight shirts, handmade bags, baskets or hats; statues, kites and many more goods which are hand-made. Most of the goods which are found here are made in the neighbouring villages of Pengosekan, Tegallalang, Payangan and Peliatan.
Kintamani and Mount Batur
Next up is Kintamani, located in the Karangasem Regency, which is also the home to Mount Batur and the Caldera Lake. A favourite stopover on tour itineraries to this region is Penelokan, which aptly means 'scenic stopover'. The still-active Mount Batur volcano which is the main reason for the reshaping of its surrounding landscape. The Bali volcano, which is also referred to as Kintamani volcano or Mount Batur as a whole, is a popular sightseeing destination in Bali's central highlands. The magnificent views which are offered here are of the, surrounding Mount Batur range. You can find a plethora of more reasons to linger around the crater itself, while those with a penchant for adventure can also take a winding road down along the lake shore to Toya Bungkah, Ulun Danu Batur temple, and a collection of hot springs. The air around this place is filled with the essence of Bali.
Bali Safari and Marine Park
Next up is a great place for kids and couples, that is the Bali Safari & Marine Park which is also Bali's largest animal theme park. It is home to over 60 species, all roaming freely within their enclosures built to closely mimic their natural habitats. Bus safaris here take the tourist for a safari ride, and animal talent shows are held regularly. Bali Safari & Marine Park offers a fun day out and is one of the island's largest and most visited animal theme parks. The Bali Safari & Marine Park which was established by Taman Safari Indonesia, ranges upto 40 hectares of land in the Gianyar regency. Enjoy riding a safari bus to visit the animals, watching fascinating elephant talent shows, get cuddly with baby orangutans, and view baby sharks at the aquarium. Families travelling with children will have a blast together at the adjacent water and amusement parks. This place is for sure going to fill you up with the essence of Bali.
Jatiluwih Rice Terraces
Next up is again a paddy land, The Jatiluwih rice terraces pretty much cover the region of the namesake upland village in West Bali, the place is most famous for its landscapes that are both dramatic and truly exotic. The site is one of the island's must-see natural panoramas on par with Mount Batur and the caldera of Kintamani. The cool and breathtaking scenery of this village which is located at the foot of Mount Batukaru acts as a respite from the crowded southern region of Bali. Once a UNESCO Cultural Heritage Site candidate, Jatiluwih rice terraces comprises over 600Ha of rice fields that follow the flowing hillside topography of the Batukaru mountain range.
Recommended Read: 17 Places to Explore When You Visit Singapore For a Honeymoon
Goa Gajah
Last but not the least comes the Goa Gajah, which is also known as 'Elephant Cave' and it is an archaeological site of significant historical value that makes it a special place to visit. Located on the western edge of Bedulu Village, which is just six kilometres out of central Ubud, This place tends to offer you the view of the beautiful rock-wall carvings, a meditational cave, bathing areas and fountains. The name 'Goa Gajah' is slightly misleading, lending the impression that it's a gigantic dwelling full of elephants which is situated in Goa. But actually, it is a spiritual place for meditation. The main grounds are down a flight of steps from the roadside and parking area, which is lined with various art and souvenir shops and refreshment kiosks. Upon reaching the base you will come across a large 'wantilan' meeting hall and an assortment of large old stone carvings, some restored to their former full glory.There is a pool here which was built in 1954 and which also houses seven Hindu statues acting as waterspouts. This place houses a plethora of essence of Bali.
These were the some of the best places to visit in Bali which will make you sense the essence of Bali in the air around you. There are many fun activities you can do in Bali and they are surfing, kite surfing, white water rafting, day cruises, sea walk, ATV games, canyon tubing and much more fun-filled activities to enjoy with your family and kids. Folks it was truly a unique travel experience of Bali which has filled me up with the essence of Bali and I hope it does for you too. Now, why are you just staring at the screen? Come on you gotta do a lot of packing for the Bali trip right! So move it!